46 total views, 3 views today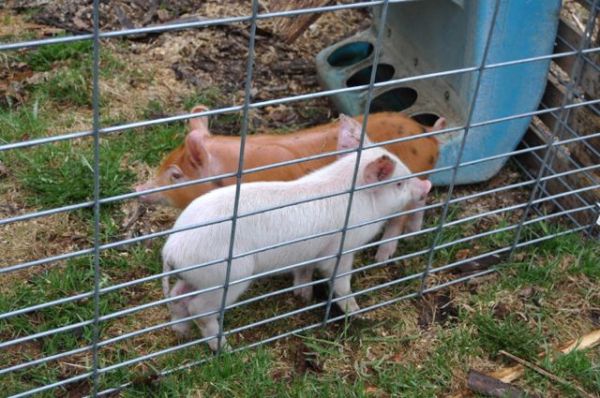 Here is a video of the hogs basically up to weight:
[youtube cTb88wAKF9U]
The hogs were delivered to McPhees today, both at least 200 pounds. The Duroc was – as remarked by the guy at the slaughter house (aka abettoir) – market weight. The landrace was a little light he suggested. The duroc was probably 230 anyways, the landrace probably just over 200.
He suggested I could have got them a bit bigger even to get more meat out of them. The days are getting colder though – and I have to travel out of province in 2 weeks so this was the week that worked.
Its a little sad to see them go, food means a lot more when you grow it or raise it yourself. It was a fun experience. I would do things a bit different next year. For one, I would use the larger size caribiners to hold the hog panels together. The little ones I had were a little light duty and one of them was broke due to the hogs lifting and pushing on the panels. THe larger ones are also easier to slip on and off the fence.
Two, I'll get an automatic watering device. Filling water daily is an unnecessary chore since there is water  /hose out there . If its there, why not make smarter use of it right?! I'm thinking a float bowl one but i'll figure out what will work best next year for the next couple of weaners we get.
Three, I think I'll get two extra hog panels which will double the area the pigs have. I think that will be more versatile, and allow the pigs a bit more space to run and give me farther reach around my (heavy) pallet wood hog house which is a pain to move. I have to use my car to move it because its so heavy, my garden tractor just spins… And the tractor is at least 300 pounds itself.
Some things I wouldn't change:
the hog panels worked out great. Tinkering with homemade fencing or even electric doesn't make sense to me, the hog panels were so easy to use, stood up to the hogs pushing and such and allowed me to easily shift their paddock precisely where I wanted them
the use of caribiners to hold the panels together. They just worked, no issues at all other than going with the larger size ones.
the hog house – it was made of pallets, scrap plywood and a green tarp. It was made strong and it lasted really well. Kept the pigs dry in all sorts of inclement weather and will likely last for years. It would probably make a great chicken coop too
I have yet to experience the full range of slaughter stuff, I was invited to come down to McPhees while they are cutting the  meat to let them know what I wanted. It may be good learning for me too so I'll have a good idea for next year how it works, what cuts are what, how long it takes etc.
All in all, it was a great experience for me, the kids and Lindsey I think to raise our own pork, its just one more learning experience for us all and we know where our food comes from.
We are blessed abundantly, and the more we raise our own food, the more we recognize that and appreciate even the effort that goes into food.
This post has already been read 1569 times!