28 total views, 1 views today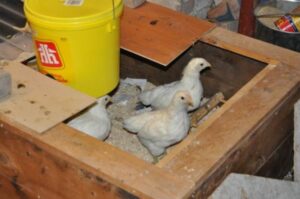 If you've read my blog posts, you knew I was looking for and acquired a number of Chanteclers. You also know that a bunch of them died or didn't hatch.
Well all Clers are now gone. Of the 4 I had left, 3 got eaten by a fox when we were on vacation, the last cock got eaten today (while we were home). So thats it, thats all of my chanteclers :/
Hard life in the country with wild animals around. Still have the coop of reds but i'm not sure where the fox will attempt to strike next. The meat birds or the reds, or is there any chance they would tempt fate with a couple of 75 pound hogs?
Whats next? i plan on getting another half dozen to incubate – and try that again (after I get my incubator back from a friend who has it packed up right now with eggs he is looking to hatch).
Stayed tuned for the next attempt at hatching, rearing and generally fathering a flock of Chanteclers!
This post has already been read 2209 times!