71 total views, 1 views today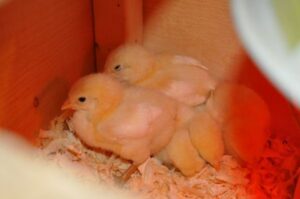 Had me a vacation day off today. This was the day for the arrival of the meat birds. This year we got 120 of them. We plan to keep many more ourselves, maybe 20 in total for our own freezer. We sold so many last year we figured we'd raise a few more this year
same as last year we're doing it in cooperation with the neighbours. All of the work was pretty much done. Last year we had to fix the chicken shed, then get it all ready. This year with that work all done, we're tweaking our operations basically. We now have an old freezer to keep feed in away from moisture and mice and a nice cleared out shed floor to house all the birds.
We've also worked out all the kinks with watering the birds for the most part, and figured out what to do from all our failures – lack of electrical cords, overflowing water barrels and bowls, feeders falling over etc.  Should be a smooth run this time. Overall it was a fun hobby filled day welcoming the meat birds and completing the setup.
Here is a vid of the arrival:
[youtube 6Asgt9JOaOM]
This post has already been read 1237 times!