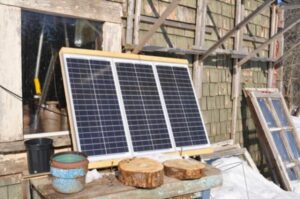 This is a vid of my latest project. Its basically a generator, except it doesn't generate electricity, just provides it. It takes the place of a gas generator in an emergency / power outage.  This unit will serve a few purposes. My idea is to put this in the camper and it will provide electricity during dry camping (thats lingo for camping without electricity with is what everyone does by default when they go tent camping basically). THe camper will then sit near my tractor shed or by the house where it can be used to power the house if needed as well by way of an extension cord.
This unit will be charged with one of my 90 watt solar panels and PWN charge controllers I already have and all that will be stored in the camper when not in use. The panels will be pulled out of the camper and be propped up on the ground facing the sun of course while camping or just lying flat on the roof and when we pack up, i'll put it inside the camper. The deep cycle battery will be an AGM so no venting required so it can safely sit inside the camper all the time.
Since the box is large, I may strip out the components and permanently mount them inside the camper, the inverter, etc, and just hard wire it all to the AGM battery.  That will be my mobile power station.
The nice thing about this find is that I only spent $30 on it. If you were to go buy an inverter new, the most watts you'd get for $30 is about 75 watts worth of inverter, so the 1200 watt inverter with burst up to 2000 watts is well worth $30 and yes the inverter does work.
Stay tuned for the video of it actually installed in the camper! (which will probably be a few months in the making…)
[youtube 5RyG1GmzrX4]
This post has already been read 1585 times!