61 total views, 1 views today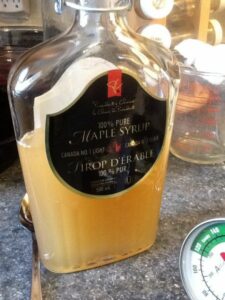 Sadly, I've taken out the spiles, removed the hose and taken away my tupperware container into which the sap would collect. It wasn't the best year, I filled that tupper ware container up only about once this year. Previous years I had filled it up 2 times, maybe 3… its a 60 litre or so bucket methinks, its large.
I ended up with about 3 litres of finished syrup, maybe a tad more… this from my one manitoba maple tree.
So how do you take down maple syrup stuff? Well, the hardware itself you just pack up and clean. No problem there, some warm soapy water will do it.
For the drilled holes, i break off the suckers that grow up around the tree once I find the one with the closest width, I stick it in the hole I drilled, then tap it in as far as it will go, then break off the end if its protruding. This seals up the hole someone, prevents weather, bugs and such getting in, and then the tree naturally heals up around it. Doing that ensures nothing foreign is stuck in the tree too. Is that the 100% correct way to do it? No idea, but thats what I've always done to fill in the seasons worth of holes.
How many litres did YOU get 🙂
This post has already been read 2017 times!