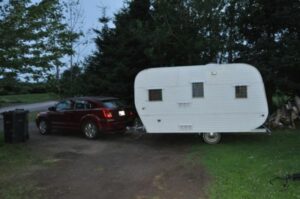 I had a few ideas floating around in my head for how best to take part of our house off grid, and having some solar power in our tractor shed for general purpose use, as well as having solar power in our camper for the times we use it.
Now dedicating panels, batteries, charge controllers to each of those isn't feasible, too expensive. And moving a solar system from one to the other all the time is also not feasible, and even if i had one to move between the shed and the house, I'd had to waste the energy to take it all down, disconnect it all, and then put it all in the camper for a weekend away.
Solution?
I'm thinking of making the camper the year round location for the solar setup. So the camper will house the battery (maybe I'll try an AGM this time since they don't vent – Absorbed Glass Mat), charge controller and panels permanently all inside the camper. It services a couple purposes. It makes for a good weather proof box for the hardware, and it makes it a portable electricity generating system. So i can park it in our drive way, or by the tractor shed and run extension cords from it to run whatever tools I have. And when we are ready to go camping, there isn't anything for me to transfer.
It also saves me from having to mount a solar panel on the house somewhere which wouldn't be used much of the time and really lets me maximize ONE solar setup for 3 different purposes.
I think this will be my next project – though I haven't even started the pigs yet which is another project and learning curve 😛
Takes me a while but I always eventually think of the perfect all around solution for my quandaries.
The camper than will have 90 watts of solar, and probably a 65 Ah sealed lead acid battery and a PWM charge controller – since i already have one of those along with a 400 watt inverter made from my Xantrex solar power pack which has a dying 10ah SLA battery in it.
This post has already been read 1942 times!