41 total views, 1 views today
Winter is still going strong here, no idea where sap season is… started for a bit, then stopped. might be a bad year for that. I'm burning the fire extra hot today even though its only 2 below. Lots of creosote in the chimney when i went up to check things out and look for damage after the storms.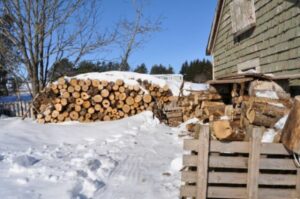 We actually have a good amount of wood left, probably similar actually to what was left over last year. A couple of cords ballpark left. So in terms of a horrendous wood burning winter, we didn't really see that. Went through a good 8 cords this year I supposed. Last year we must have only went through 6 or 7.
Its been a nutty year for snowfall, certainly noticing it more anyways since we need to shovel paths down to the chicken shed. Not only that, we need to shovel the chicken runs somewhat each time so they can get some outside time. we've had to do that 6 or 8 times anyways where the drifting just overwhelmed the chicken run. The snow is piled high there! Its so high walking on the snow around the shed, i almost get giddy thinking about the green grass and warm summer once its all gone. Certainly the extremes in weather lets you appreciate all the more the next season coming up.
For summer we have some big plans. Pigs of course, and we are ordering 120 meat birds this year, and big gardens and maybe this year I'll tackle the other old shed. It would make for a great tool shed and livestock shed for next winter but it takes even more work than the chicken shed did.
So for this winter, I would hope we continue to get this sort of winter and more, with less melting in between. sure its more shovelling, but it does make for more interesting and magical winters.
This year was also the first time we went all winter without using the oil furnace – mostly because the thermostat is busted. Yes i know how to fix it, no i can't be bothered  cause I don't want to burn oil :P. We fared well without oil. We even survived without a propane stove which we were using in the mornings – the dining room propane stuff doesn't work now. But we did survive and likely saved a lot of propane. Its chilly in the morning but certainly warmer in the morning than likely anyone else in this house had to deal with over its 100 years of life cause if anything its more insulated now than it was (attic, a few walls etc).
I'll raise a mug of coffee to the winter that was exciting (though I didn't get any full days off work due to storms which I was really hoping for).
This post has already been read 1016 times!