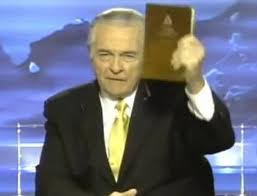 NOW, disclaimers! Don't write this off.  Here some some disclaimers:
This is NOT Jack Van Impe, just using the image 😉
These videos by this guy aren't REALLY about this specific date, they are simply supposed to be thought provoking and get one thinking about it and the nearness of the return of Christ
These videos occasionally do get into a bit more USA focused discussions but not too much, so those of you who get annoyed with american preachers and american centric bible prophecy,  hold on, get past that part, these are still fascinating videos
Gets into mark of the beast stuff, technology etc
gets into the organization of a one world government
These videos get into a ton of good stuff including:

Blood moons
Current events including Israel, Russian, where the countries are in the build up to the final events in bible prophecy
extrabiblical prophecies including the prophecy of the popes, the Jubilee prophecies, and so on. The purpose of which is to demonstrate how coincidentally they appear to line up with the general time frame of bible prophecy. So not fact and shouldn't be taken as such but interesting that it lines up it appears with the canonical bible.
Generally, if you have any interest at all in bible prophecy, this series really brings together all the world news, all the prophecies, all of the things that are coming together to paint a picture even for the newbie as to where we are. these are 1 hour long each episodes, so quite a lot of teaching here. As with anything you hear or on youtube, compare what he says to your own study, still, this is a very interesting and worthy teaching series! 
[youtube Huep_REWzrU]
[youtube C0RXlCbIqrk]
[youtube UqZKAmgFUpE]
[youtube H4Cmv9sFGOA]
This post has already been read 9600 times!