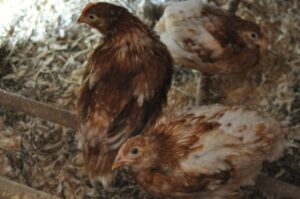 These birds aren't chicks anymore! They are looking more and more like mature hens every week. 3 or 4 months before they start laying but this will be an excellent boost to our egg production!  With these birds, we should be getting 9 or 10 eggs a day steady through summer – that will be cccccrrraazy.
We had others to move into the brooder in the neighbours basement and it was a warm sunny day today, good day to introduce them to the chicken shed and a few of the other birds. These are about 4 weeks old now, fully feathered so they should be able to weather the colder temps though they have been used to 20 degree temps until now. We have a single heat lamp on them and will do for the first week anyways until we gauge how well they are handling it.
Below is the slide show of both our chicks in their new habitat and 3 of our regular flock with Big Red the rooster there – though one of our younger members of the flock was hiding in this shot – newly introduced to the much older hens.
[RoyalSlider Error] Incorrect RoyalSlider ID or problem with query.
This post has already been read 1404 times!