55 total views, 2 views today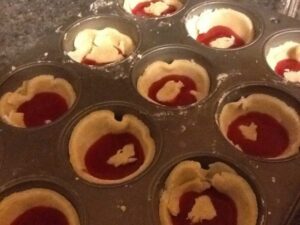 I've been bored as of late during the evenings so I've been cooking sweet treats for myself. Last night was my patented sugar cereal. Pretty sure I posted blogs on that one before. Tonight it was jam pie!
I made 3 jars of strawberry jam yesterday so what better way to make use of it than to make jam pie. What is jam pie you say? Super simple. And I don't even know if its an official recipe.
You can see below, and here is how its made:
make your standard pie crust, say for like apple pies. The below was made with a one crust pie recipe. Definitely do at least a two crust pie for any decent number of mini pies to come out of it!
cut with a decent sized soup mug or something so it fits in a cupcake pan
spoon in whatever jam you want (strawberry in this case)
if you have left over crust, put it on top
Bake at… oh… 350 or 400. Everything bakes at 350 right?!
if you want to be really crazy, sprinkle chocolate chips on top
bake for 10 or 15 minutes or something – just watch them and take out when done
eat – with a large glass of milk
try to save some for the kids in the morning
[RoyalSlider Error] Incorrect RoyalSlider ID or problem with query.
This post has already been read 1194 times!