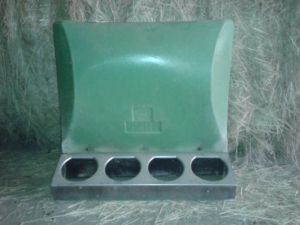 As part of the ramp up to pig husbandry, I got a great deal on some genuine hog feeders. My big one looks like this image to the right. The one in the image found on kijiji in alberta is selling for $125! I got my for $15. And two smaller ones for $10. These units are gravity feed, they hand off the side of a fence for example. You  dump the feed in the top of it.
The smaller ones happen to be perfect for chickens with smaller holes but large gravity feed storage. The common feeders for  chickens are round hanging ones, but round and hanging means they are in the middle of the chicken pen / coop somewhere. with these ones, they get strapped to the fence or wall for ideal access for refilling. And the deep mouth on them will likely prevent the chickens from spilling it even better than the hanging units. Excited to see how these work for our meat birds, I think they will be much easier to manage! And having two sizes means I'll have some choices depending on how well the pigs are eating or how well whatever I'm feeding them works with the feeders.
Sure, you could make one of these out of wood but for ten bucks… you can't beat it! This is thick industrial plastic, should last basically forever for the amount of use they'll be getting on our farm… Also, there are good reasons why you get the right stuff for the job, often the right stuff / tools / hardware makes things easier. They are purpose build so no fiddling with a homebuilt trough which may get pushed over by the pigs every day.
Once we get our weaners, I'll be sure to post some pics of them in action.
This post has already been read 20515 times!