107 total views, 1 views today
We live in an amazing country and Lindsey and I (and chillies) enjoy the peaceful green life on the island, Prince Edward Island that is. It actually  takes effort oddly enough to remember where we live but when we do, the passion is stirred up and the wonder and awe is aroused in us to go adventuring, hit the beach, go to a touristy spot and pretend we are on vacation…
Last week we took a tour up to Cavendish, its definitely tourist season there. We drove though, stopped at the 'boardwalk' which is just a bunch of stores really vying for tourist dollars. We got a couple plates of fries and all the condiments. Then we headed to 'Cavendish Grove' which was the location of Rainbow Valley (Blog on that a while back here: http://micahgallant.com/2009/09/19/rainbow-valley)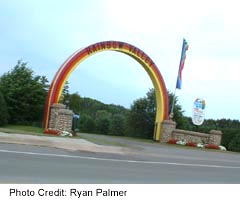 Here is the current government website, its just a national park now:
http://www.pc.gc.ca/eng/pn-np/pe/pei-ipe/natcul/boise-grove.aspx
After that we stopped by one of the ice cream stands in Cavendish, again, catering to tourists mostly  and only open during tourist season. So we got some cones and had our dessert. Its really great to totally pretend we are on vacation even if only for a few hours. And we get to enjoy this beautiful Island.
Since coming here 3 years ago, I really wondered if we would get used to it and it wouldn't be exciting. To some extent that is true, but we still really enjoy it here. We're having fun living in our house in Wheatley River. Its 'inland' which means going to the beaches is still an experience which is great.
Canada has a tonne of beautiful places and I'm excited and thankful when I spend the time to think about it!
The Lord is good, very good and has blessed us abundantly.
Oh, and Happy Canada day!!
This post has already been read 1569 times!