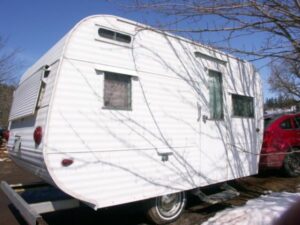 This is a camper I got, traded my 1991 Seadoo for it in hopes it would get more use and enjoyment than the Seadoo did. Should be very fun with the family to go camping this year! The unit has a few leaks and minor repairs are needed here and there but its generally original. Its heavy, but the caliber pulls it. Should be great for fiddlefest this year with the family. First family camping excursion – should I be able to get all the papers and certification for it etc…
Photos and youtube vid below. Sure, its not 'hardcore' really for camping experiences but sure is fun.
[dmalbum path="/wp-content/uploads/dm-albums/Pyramid Camper 1969/"/]
The youtube vid is a 'walk around' inside the camper, and by walkaround I mean turnaround. Its small and cozy!
[youtube X9IPYdEKLLc]
I don't actually know the make / model of it yet,…. the plates are painted over so I'll be making another post with that info as soon as I can find that.
The camper needs the following:
a bit of mould that needs to be taken care of

some minor roof leaks, fully expected
internal cleaning
repair of some of the bench seats
signal lights don't work correctly – partly due to our car which doesn't have running lights 😛
jack stand is broken off
needs undercoating of some sort to fix / prevent some of the rust areas
probably needs new wheel bearings
This post has already been read 2988 times!