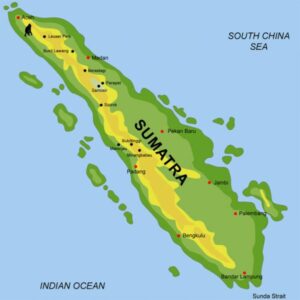 Every bean roasted is a new lesson in roasting technique, new insights, new frustrations. On the same hand, that same bean roasted holds the potential for new flavours, full bodied yumminess, bitter notes and wide-eyed caffeine intake.
The flavour of the month (until I roast through my whole bag of them) is Sumatra beans. They are a very large size bean actually, larger I think even then the columbian beans. More dense anyways. The reason I say that is because roasting 2 ounces at a time in my popcorn maker takes over 8 minutes where the same amount of beans such as Tarrazu took 5 to 6 minutes.
Here is the detail from my bulk supplier – GreenBeanery.ca (and I recommend them for sure for your bulk greens as well!)
This coffee comes from the Gayo Organic Coffee Farmers Association, the first, and still the only, coffee co-operative from Indonesia that is Fair Trade Certified. The co-op members are small coffee farmers, working farms of one to two acres, who produce 100% shade-grown, organic coffee. The coffee is SKAL and NASAA certified organic.

This coffee sells at a premium to allow the co-op to support a wide variety of programs. They include:

Community nurseries to provide improved and grafted coffee and shade tree seedlings
Rehabilitation of degraded lands and unproductive coffee trees
A weed cutter program to help farmers avoid the use of herbicides
A member\'s credit union to extend small loans to families in the co-operative
Upgrades to all processing facilities
Community infrastructure projects, such as clean water supply
Increased staffing and development of the association

Co-op farmers live in an environmentally sensitive region, the buffer zone to a National Park, which contains critical watershed areas and sanctuaries for endangered species such as the Sumatran tiger. Fair Trade price incentives and technical support provided by the cooperative are designed to encourage sustainable agriculture and resource conservation.

Our Sumatra Organic coffee is full and rich with low acidity. Its deep rich bottom has a subtle sweetness on top.
As with all the green I've been purchasing lately, this is as suggested in the description, fair trade, organic and grown under a canopy of shade. FTORGCOS for short (not really, I just made that up)
So yes, these beans take quite a bit longer to roast to similar levels as the smaller beans do. Almost wasted a batch of them when I didn't take into account their size and potential roast profile. Lesson learned! And noted in my handy dandy ipad app called 'Roast Master' for the next time I buy a bag of these particular beans.
This post has already been read 7162 times!