Its not even September yet and the mornings are quite cool. Construction on our bridge is moving along, another 2 weeks or so of this apparently. They're driving large metal I beams into the sandy earth to replace both the railroad tie platforms and the later added concrete pillars. Traffic is slowed and the noise is at times monotonous.
Its definitely getting near good times for cutting firewood though. Its much more comfortable to be cutting when its a bit cooler, I have lots already stacked but hoping to get a friend or two for an hour to really get some work done on the pile.
For once in my life I do get excited now about the fall season. Basically cause I get to shovel snow (really enjoy doing that) and use my new snowblower, and I get to burn wood. For some reason I enjoy working the wood furnace, plunking wood into it. For some reason it amazes me that you can stuff wood in a box and it heats the whole house just as well as oil or something else does. Its so odd and so natural.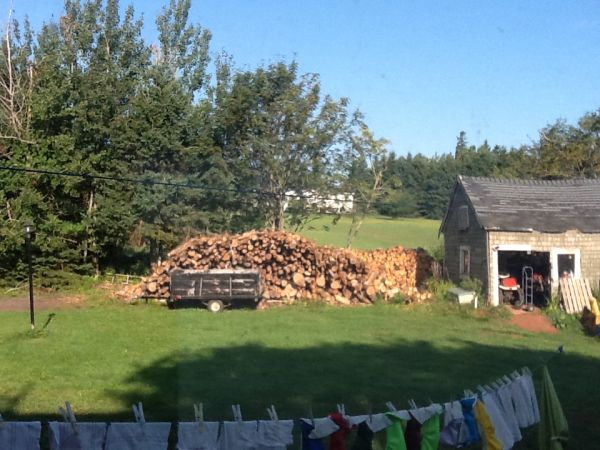 I enjoy the refreshing smell and coolness of the air and the glint of the sun off all the cold due on the ground. I'm used to dreading fall because of school starting, the end of 'fun' during the summer and generally what feels like the end of things at least until next summer. Its emphasized by the fact that usually you see lots of family during the summer and that is done and you're left more to your own devices.
I'm in the mode of putting things away for the season, stuffing the shed full of chairs, boats, motorcycles etc before the real snow flies. Its a time when again, lots of stuff is happening but different types of things. Hopefully I can get a bit more exercise with all the wood I have to cut and haul, and I get to do all that with my new tractor so thats exciting too 😀
Sure am enjoying things out here in Wheatley River. Not too many other places I'd like to be with my family right now. Only heaven would top that list..
This post has already been read 1177 times!