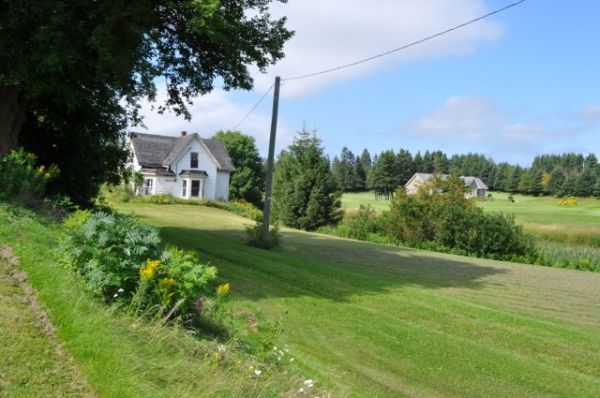 We are now acreage owners! Closing date was yesterday, all documents signed, sealed and delivered. We don't get any keys handed to us like we did with our house since there are no keys to this place (you just walk in the hole in wall basically – its that bad..)
First  order of business is to cut the lawn (just rained yesterday and today) with my new (1970) Bolens. Next is to pull out the trailer and drive down to the sheds and have a look see at what is there, whats garbage, whats potentially salvagable.
Next is to cut up the try that has fallen over (not seen in this image). Oh, maybe first order of business actually is to patch in some fashion the holes in the roof :S Yes, thats the first thing.
In a way this house might be a 'parts house' just like I have a parts tractor 😉 . We can scavenge useful things off it like door knobs, rain gutters, windows, all sorts of things!
On the list of items after these are (and not really in any order):
cut more of the lawn further back
prune the apple trees
clean up the shoreline of garbage
build some kind of canoe launch or dock
repair the old sheds if possible to make them usable
take a large number of loads to the dump to generally clean out the buildings
discover lots of extra cool things about the property we didn't know about
find the property line markers
AND as always to enjoy the land and the riverside
[dmalbum path="/wp-content/uploads/dm-albums/Rackhams Property/"/]
This post has already been read 1057 times!