Life is busy and exciting these days, have Lindsey and I ever had a none exciting time?  Haven't had much sleep but its already getting better the second week in with Jack. He's sleeping more, almost up to 4 hours at a time now! We also have visitors from Newfoundland, Granny and Aunt Alison as Granny moves to the 'other' island.
Last week we started getting serious about purchasing the land beside us, the one we wanted when we bought this house and just today we got our offer accepted, WOOT! Now we officially own an 'acreage'. Our existing lot is 1/3 of an acre so with the new lot, we're almost up to 2 acres. Its a water  / river front property too, very exciting (I'll try to limit my use of exclamation marks since just about every sentence here seems to warrant one). It gives us our dreamed about water access, a huge length of water front along the river, a wide open lawn that is big enough for a soccer game or anything else for more then 4 people at a time, really its a lot bigger then our backyard currently and our back yard isn't small either. I'm loving the 'romance' of land ownership, to own a slice of the Island and to work it, to manage it, to maintain it and hopefully to allow others to enjoy (ideas to come in a later blog for sure).
When looking to buy a house we really did want something with hills, forest, and ideally a river, we 'settled' on our existing house after searching for other decent properties. It wasn't huge, didn't have any woods really and was locked between a highway and another lot. Well now we can say we own down to the river, have a,.. yes,.. tiny wooded area and now a HUGE lawn.
Below is the outline, if you go to google maps, or just look at the embedded one below, you can see where it is.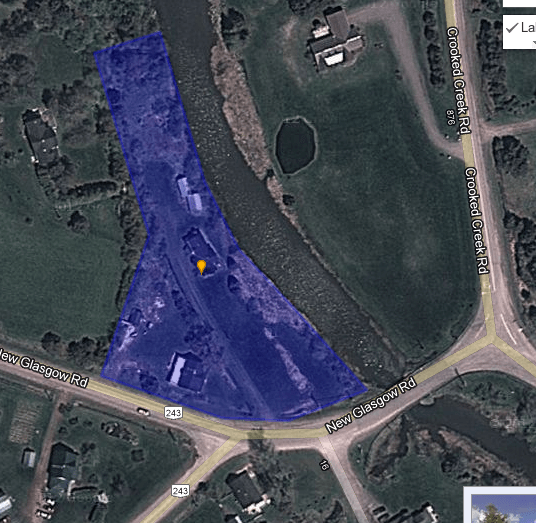 [mappress mapid="2″]
And I haven't even got to working on my Bolens yet really due to sleepless nights and working. Its right now that I wish I was retired so I could just get down to playing with our house and playing on the land. Just getting my hands dirty and working with the property would be amazing. I should try taking a month or two of paternity leave! Oh well, its work that helps pay for things and such is life. Nonetheless we are so blessed and are enjoying the fun opportunities we have.
This post has already been read 1136 times!