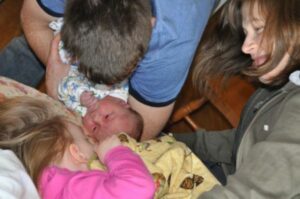 I'm a proud father and now a proud father of a son. We have our 'million  dollar family' as some like to call it. One thing is for sure, I'm glad God wasn't satisfied with the million dollar family (i.e. Adam and Eve) otherwise I wouldn't be here today.
Psalms 127 has these verses:

3: Children are a gift from the LORD; they are a reward from him.
4: Children born to a young man are like arrows in a warrior's hands.
5: How joyful is the man whose quiver is full of them! He will not be put to shame when he confronts his accusers at the city gates.
Its so cool and exciting to be a dad and tiring at the same time. We definitely don't have time to do the things we want to do all the time. We used to go to the beach on a whim, or for a country drive without thinking about it, or nowhere to get a coffee and drive back. To do those now requires planning, preparation and well rested children, not to mention all the effort required to get them in the car, keep them occupied while in the car, get them out of the car at the destination, keep them occupied at the destination and then all the same but in reverse order for the way back.. 😀
Having said that, its a whole new world of laughter and watching our little kids learn and explore. Its fascinating and I think I'm realizing it even more with our second child. The first time we had zero idea what we were doing, this time, we have a little experience and really can see things more clearly.
[dmalbum path="/wp-content/uploads/dm-albums/Jack/"/]
This post has already been read 2306 times!