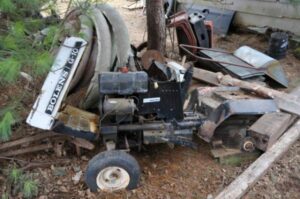 As we're waiting for our second child to come, I've been working on my own baby, my Bolens 1054. I just purchased a hunk of metal (see image) that I intend to use as a parts tractor. So far so good. The main piece is the engine, its a 10HP Tecumseh Heavy Duty cast iron. Its also electric start which was key (who pulls a cord to start engines these days right?! 😀 ..). Engine turned over, seemed to have compression so I took a chance on it. I've since WD40'd it all up, put a bunch straight down the cylinder on top of the piston just in case as well. The electric start works.
I just had to get a few pieces for it, plug cap, muffler, and did an oil chance. Oil was black as night, not sure the last time it was changed, but, having said that it was otherwise clean, no water that I saw really or bits of engine which is always a good sign.
I also got a bunch of proper hitch pins for my mower deck assembly, right now it has various bent nails to hold it together :S  Its always nice to get some fresh proper parts on equipment. Really makes a difference! Should the baby tarry, I'll be working on that this weekend looking to see if the engine will work in place, and if it does, I'll attempt to put it on the 1054. We shall see how that goes.
Otherwise, still waiting for baby #2, almost a week overdue at this point. All in all, good times, enjoying life, having fun and not spending TOO much money doing it all… One thing I thought and have in the past, why would anybody buy something new? There isn't anything to do on a new tractor or new house, wheres the fun in that?
Its like when building a tree fort, a finished one is no fun, the fun is in building and fixing it! Of all the things to do, this is a good sort of hobby to have –  as long as our backyard isn't filled with junk.. thats what Lindsey would say anyways!
This post has already been read 1148 times!