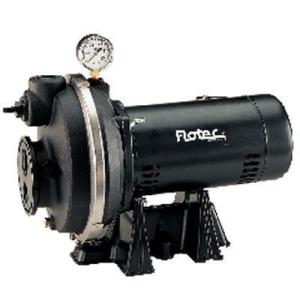 I'll soon be a well pump genius! Forward any questions you have to me 🙂 Well (haha), … not quite yet but maybe soon. Our well pump bearing started leaking so I started scrambling to educate myself on well pumps, what we have, what we need, what type of pumping system we have, the depth of our well, flow rate needed etc.
Its a bit complicated if you've never done it before. Ideally, you need to match the power and output of the pump to the pressure tank you have to be most efficient and to ensure you don't burn out your well pump, either running too long or because its too powerful for your application.
We have what looks like a 40 or 60 gallon pressure tank. Maybe 45. Its hard to say because it just says 'Sta-Charge' and I can't find any other specs on it or on google for it. Its still intact but starting to rust at the bottom. When will it burst? Who knows. But right now it still adequately provides tap pressure and seems to operate normally.
Normal operation is when  you can flush your toilet say twice without the pump coming on. This is a rough generalization. There is a 'drawdown' amount of water that should be able to be used before the pump comes on to add more water to the system. This is in between 6 and 12 gallons, for us anyways. The bigger your pressure tank, the more drawdown water you have and the less the pump needs to come on which is ideal. A 42 gallon pressure tank provides about 12 gallons of drawdown before the lack of pressure triggers the pump to replenish it. Pressure tanks have about 1/4 on average of usable (drawdown) water. The less your pump needs to run the better for its lifespan, and quality of pressure and flow at the taps etc. If your pump is running basically all the time, thats probably bad. There are some that are meant to do that – constant pressure pumps – however those are new I believe. So if you're pump is running all the time when running water, that may mean your pressure tank is waterlogged (air bladder is deflated or punctured / leaking)
Onto pumps, I started with a 1/3 HP, 115 volt pump which is on the smaller side of pumps available in places like Canadian Tire or Home Depot. Most are 1/2 HP or 3/4 for residential use. I've read that 3/4 to 1HP is ideal for regular household use but that is probably very subjective. It all depends on your water consumption patterns and load. Need two showers and a dishwasher running at the same time? Well maybe you're going to need a 1HP to ensure it can keep up with the demand. But thats another story…
I'll probably opt for a 1/2 or 3/4 – mainly because I think the only model in stores here that I can find is the 3/4.  It does technically consume more power then the existing one (800 watts VS 1400 watts) but it also will replenish the pressure tank in a shorter period of time as its able to pump greater volumes then a lower powered pump.
Remember: Volts * Amps = Watts
Now, my well is a 2 pipe well, which generally seems to indicate that its a deep well. Deep well setups either have a submersible pump, or like mine, a 2 pipe setup with a jet pump in our basement. The two pipes allow for more power to suck up water. 1 pipe is the suction pipe as you might expect, and the other pipe is a drive pipe with water actually shooting down into the well again and back up the suction pipe through a nozzle which creates a venturi effect and therefore suction of its own which helps to suck up the water
Well pumps like the 2 pipe method work by creating small suction in the pump pipe which thereby allows atmospheric pressure to force the water in the well up the pump pipe. The performance depends on your altitude as atmospheric pressure decreases with an increase in elevation but for most people, its an insignificant consideration. Especially where we are – basically at sea level here for all intents and purposes.
So, I need a deep well type 2 pipe pump. Great, so I just need to go buy one now 😉 The plumbing of which is pretty basic, lots of PVC, snake clamps, maybe some soldering to do, throw in some flow valves for ease of work on it later should any piece of it need maintenance or replacement and you have an overhauled well pumping system good for – hopefully – a few years to come.
By the age of the products in our house, they look to be at least 5 or 10 years old, its really hard to say. The date on the pump says M79?? Does that mean 7th month in 2009, I doubt it, pump looks much older. Could it be 1979? Maybe, not sure it looks THAT old but then experience do I have with these things 😛 Zilch. Either way, its on its last legs and needs replacement.
Maybe I should do a DIY video when I replace it 😀 (and edit out the parts where it doesn't work properly 😉  )
Wish me luck!
Oh, for some REALLY good tutorials on how it all works, what pumps do etc, check out the flotec site here: http://www.flotecpump.com/ResidentialResourceCenter.aspx
They have an excellent resource centre with videos, explanations etc. Very good learning material!
This post has already been read 9676 times!