We had fun yesterday and last night with all the wind and the rain. The river swelled, it kept rising and rising. The neighbours house was surrounded so I went over to see if i could help. They had two sump pumps going full blast and the water was still coming in. Before it got TOO high the tide went out and took much of the water with it. In the debris I did find a rubber ducky from the Wheatley River duck race last year – wonder if there are more of those scattered around now.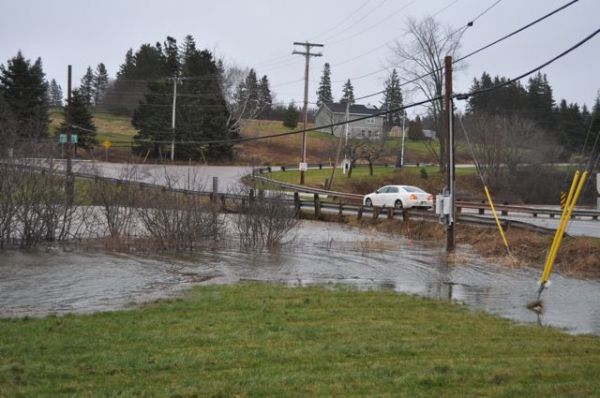 Then at around 2 am the power went out – and it was out for a good hour or two probably. Luckily it wasn't very cold at all outside, although I did keep the wood furnace going through the magic of 'convection'. It seems heat rises, and will circulate on its own. OH the wonders of nature 😉  It is good to have the blower running when we have power but good to know also that we can basically cook and keep the furnace going with zero hydro. Also had some candles going while it was out. I even plugged in our 'old' non electric telephone so we would have at least a dial tone. Beat that Internet phones everywhere!
So its nice to know we're basically ready for the next disaster and are 95% self sufficient. The only thing we might run out of is clean water, but then…. a walk down to the swollen river with a bucket to boil water in would work just fine in a pinch.
(also, let it be noted that I have so much wood downstairs comprising walls and shelving that I could burn that for a year if I needed to 😛 This doesn't include structural members in the house either!)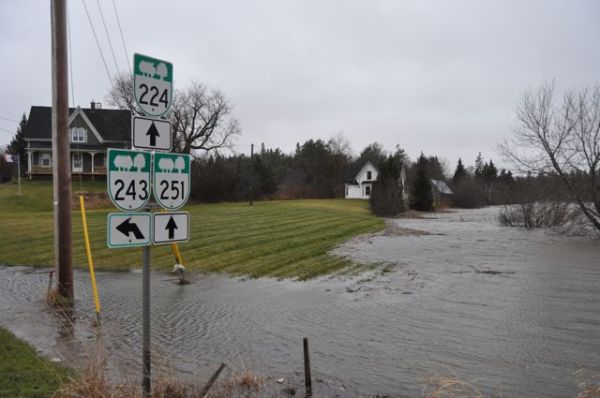 One thing we did realize with all this north – east wind action is that that whole side of the house is drafty and un-insulated. Again, luckily, the wind doesn't often blow from that direction, the other side from which it usually blows is all newly insulated and drywalled!  Sure, we have some issues with wind rushing through our floors but thats a matter for another time and hasn't posed a problem enough to deal with at this time.
We're also very glad to be up on a little hill away from the river so that we're not directly effected by storm surges – we actually don't even have a sump pump in our basement!
High and dry, safe and warm, food and clothe, this is our home.
This post has already been read 1595 times!