I can see now why people like to buy houses that don't need much extra work. I understand also why, if you're willing to do some 'fix it' stuff,  you can get a house a lot cheaper. We've had some MAJOR things to upgrade on our 'new' house before insurance would even insure us, roof, heating, electrical. Those are not small things at all! I've had to get multiple quotes, schedule appointments to get the contractors in, figure out exactly what CMHC will allow, figure out HOW we want to upgrade the house, ie, what components, expensive, cheap ones, do the work ourselves or have contractors come in and do it. Getting near the end of the quote and mortgage approval processes now. Its been quite stressful on both of us, being that we're both working full time, finding space for pre-natal classes, being involved in worship all sunday (usually we just stay in Ch'town all day), Lindsey works on saturday so we don't really have  a day when we're both off. And when she is at work, i don't have a car so getting around, getting things done isn't easy. Not to mention I was way on business for a week so couldn't get anything done then – even though we are working with a deadline 😛 So much that needs to be done and fall into place AND be accepted by the bank / CMHC before we can move ahead. And then the stress doesn't stop cause now we actually need to get the contractors scheduled and for the work to be completed in the space of a month and a half.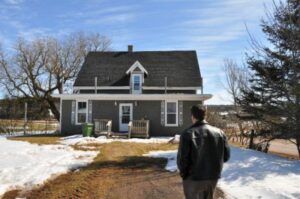 For the NEXT house, I think we'll evaluate much more what kinda house we want to get into. Not that we're having second thoughts, I figure this is part of getting your first house, you need to be willing to take a bit less of a house and do some work on it cause we ain't rich. Should be fun and it is totally a great learning experience dealing with contractors, legal issues, cost of professional services etc.
I can't wait until this is all past us and we can relax a bit more again!
This post has already been read 1017 times!