We have rabbit ears for an antenna, we don't want to waste money on cable or satellite. So, we get 2 channels decently on our  TV and CTV (the Olympic channel) is not one of them.So last night for the big Canada – Russia game, I hooked up my versatile Macbook to the TV and watched the CTV live feed fulll screen, it actually worked quote well. It got choppy at points but worked real well for streaming live video over the Internet, especially considering that there were likely millions watching it online, hundreds of thousands at least. Anways, it worked out!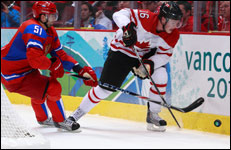 There is something special about the Olympics and watching team canada play, any team country sport is a lot of fun.  For whatever reason, its more than a game at that point, its a pride thing, patriotic, its SO hard if you actually lose. the excitement level is way up! So ya, I always really enjoy sitting back and watching a good team Canada hockey game. And finally we can watch it in decent quality on CTV live streaming. Granted it would be nice to pull it in over the air in HD  like my dad… Maybe when we get a house I'll get an antenna and try to pull in signal from the close US states here, there should be lots of HD signal coming from them – not to mention we'll get all the other channels much better as well being closer to Charlottetown, so that will be good. There are lots of good things about moving closer to Ch'town for us.
Anyways, GO CANADA GO!
This post has already been read 1517 times!