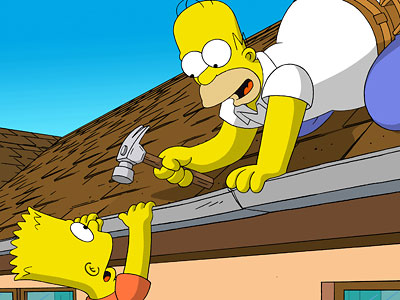 WoOHOO, we've been holding this information closely for a while but now I'm allowed to announce it, at least here.. we'll see how long it takes to get to facebook. We are pregnant with our first child. I don't really know what to think or feel, its a whole new experience. We haven't been to the doctors yet for ultrasound or anything – thats coming up.
You're thinking,.. he put a picture of Homer up in his first blog about being a dad?? 😀  Homer never was the best role model but he loved his kids anyways. Obviously, its not a good comparison, but I love the simpsons anyways… so there! Anyways, I hope our family is far more than what the simpsons is, thats for sure.
I'm thinking, boy, I'd better watch what I say on this blog now cause my kids will be able to read it all, see all the videos and photos from our days 'before children' and they'll be able to see our whole lives from back then in this age of digital immortality. Not sure yet just how many we'll have, I think Lindsey wants 3. I think we should help raise Canadas average birth rate! I'm pumped that we will be able to bring children into this world starting in Canada, they'll have great opportunities and wealth, although with that is much responsibility. We'll have to discipline them and teach them well and I have no idea how to do all that. I suppose you just learn as you go with this.
I can say now, without even having a kid, I don't know how any single parent does it! (maybe thats getting ahead of myself).
This is the worst blog ever, I'm all over the place :/  Anyways, I'm a dad now, no going back, I have a new family member to bring up, protect, shelter, and love, and a whole new world of experiences exist now. Now I'm really seeing the 'circle of life', we're born, we grow old, we have children, we pass away, meanwhile the children are growing old, having children and that continues generation to generation.
New life is awesome but I can't help but think that with new life, comes the truth that our lives are slowly and surely marching towards the end, sounds morbid a bit I guess, but hey, I have heaven and Jesus to look forward to so thats not SO depressing. One thing I don't really like is change, having a new baby is good change, don't mind that but for example, the first time I moved out of our house to go to college. that was a big life changing event, and then moving to NWT to pursue a job, far away from parents then, totally on my own, now to PEI. And my parents are getting older and sickness comes with that and I wonder how long they will be around, hopefully for a long time. I hope they both, all 4 parents indeed will be able to see our children grow up.
Life is such a roller coaster ride, sometimes you can enjoy the ride, other times you can enjoy the scenery as you scoot along,  other times like being cranked up the hill, the wait can be stressful, and the outcome scary, and then there are always times when you just have to hang on just like racing down the steep hill.
What will the new year hold for us, what will family be like on the Island here, how will our lives change once we have kids?
Scary a bit, exciting, and it really makes you think about life all over again!
This post has already been read 1960 times!