134 total views, 1 views today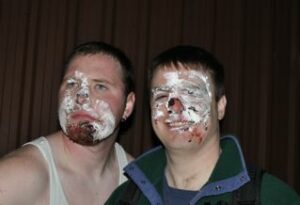 Well it was the last Creed Youth night for Lindsey and I. It was awesome, a regular youth night. I really like when you end something and the last one is the same as the first, or the 20th time or whatever. Does that make sense? I just appreciate that we went out doing what we did all the other times,  spending time with the youth, have a good time, worshipping God and learning the bible. Oh, and to explain the picture, we did have a 'going away' cake in our honour and at the end of the night, Joel wanted a pie in his face, and Joel junior a little later on snuck up on me and put a slice in my face. Good times 🙂 I appreciate all the youth, especially they guys, they are all great and its always said for an 'era' to come to an end but people have to move on sometimes right. Don't know if we'll be involved in a youth group in PEI, we'll see what we end up doing. It will be great though. I hope Linds and I were atleast a decent example of a christian, not perfect by ANY stretch but I hope we were able to be encouraging and friendly to all! I know what it means for there to be a friendly smiling person in those such groups, and wherever you go, its kinda like 'pay it forward'. Lotsa good memories with Creed Youth!
This post has already been read 815 times!