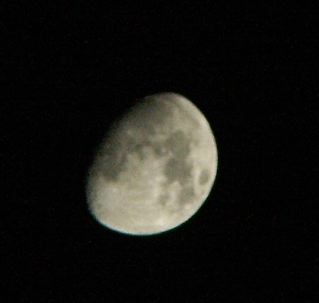 Here is my moon challenge for Aimee and her new Rebel XSI. This is a pic from my A2 taken at, approximately 280 mm (10x optical) with the help of a 1.5x telephoto lens. Used a tripod of course as well. Twas a clear cold night. I really should try to take some raw shots and see if I can get more clarity. My next hobby might be attempting to mate the A2 with a telescope.
So Aimee, you should try getting a good moon shot!
This post has already been read 1060 times!