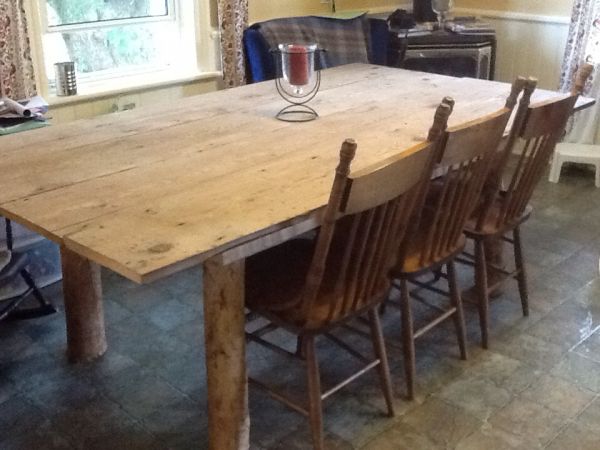 I had it in my mind a few months ago that I wanted to build a table. Wasn't sure when or with what wood but i had an idea for how to construct it. I wanted to build it similar to my coffee table I built a couple years ago since its stood up well and is sturdy – even with kids tipping it over, jumping off it, etc, etc.
Since my Dad was on the Island for vacation, he helped me pull up some old floor boards from our abandoned house. We then proceeded to wash them, bleach them down then I cut them to size, pieced them together and generally put it together without a plan, seat of my pants as I went.
To me, building is like art, you don't necessarily know exactly what how you'll make it or the final shape though you have some picture of the final product in your head. I had absolutely no plans but I did have a bit of experience after making the coffee table.
The table is 7 feet long, just about 4 feet wide. Its made with floor boards on the top, new dimensional pine for the apron and structure underneath, then lengths of maple which came off our 8 foot length firewood pile.
Using some drywall screws – I like their super coarse teeth – or whatever you call them. Great for grabbing the wood. Then some carriage bolts to hold on the maple legs.
I'll be finishing it with a DIY concoction of bees wax and Olive oil which makes for an edible surface and seals the top from stains and it also keeps the moisture content in the wood more stable so it doesn't dry out further or  collect too much moisture.
Stay tuned for more images of the finishes, the sanding etc all of which I've not started yet.
[RoyalSlider Error] Incorrect RoyalSlider ID or problem with query.
This post has already been read 1827 times!