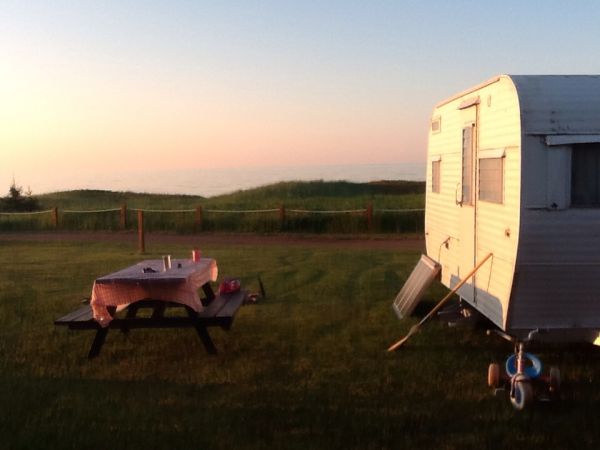 This was our camp site at Twin Shores campground PEI. It was packed for the this particular weekend in June and the only sites left were unserviced and all happened to be the prime real-estate ones on the beach!  It was a perfect day and two nights of camping sunny and hot and the camper performed excellently.
This was my first 'real' test of the off grid camper and the setup I have in there. It consists of a 90 watt panel, a 90 Ah deep cycle battery and a  EP Solar 2215RN Tracer solar charger, oh and a 1200 watt inverter (modified sine wave).
What worked and what didn't? well the 1200 watt inverter handled toasting bread no problem (about 800 watts for our two slice toaster), it ran a vacuum prior to us leaving for 20 minutes (1000 watt), it ran our interior lighting and could run it pretty much indefinitely. The lighting consumes less than 20 watts.
I charged my iPad with it and our little booster / compressor deal. All this with power to spare and plenty of sun to fill the battery back up.
We also ran the camper fridge which is a 2 way fridge, propane and electricity. The fridge though was a bit much to be able to run continuously. It consumes 120 watts almost all the time, there isn't much for an OFF duty cycle with this fridge as its older technology. the same tech today in a fridge only consumes about 20 watts and thats probably at a 70% duty cycle or something. We had ice bags in there then I would power the fridge for a couple hours at a time. At 120 watts,  and only 90 watts of solar, the panels couldn't power it by themselves or power it and charge the battery so the battery on balance would slowly drain. I *could* potentially run that fridge all night, BUT it would consume all of my Amp hours (which isn't the best for the battery) and it would assume i had enough solar panels to both fully power the fridge during the day AND charge the batteries. To Do that I would probably need 200 watts of panels at least.
So the fridge was the interesting part of it. so I definitely can't run that 24/7 which I need to rectify. I'll rectify it by decommissioning that old tech fridge and getting a DC cooler which I can run 24/7 off my existing 90 watt panels. All in all, we had zero issues or need for more electricity other than the fridge while camping. We had a little butane stove for boiling water. An option would be to power the fridge with propane but the propane isn't hooked up ,and I'd have to go through it all, who knows how long its been since its run on propane, no idea if that all works or the propane hoses are intact etc…
So the result is that I"ll be looking for a DC cooler so we can cool our milk and such 24/7 off my existing system.
Also, with my 3 30 watt panels together, I think it would be a much neater configuration to have  a single 200 watt panel on the roof of the camper. I think 200 watts would be the sweet spot to provide plenty of power no matter what we were running in there.
Next test will be our longer duration camping up east for fiddlefest. Stay tuned for that!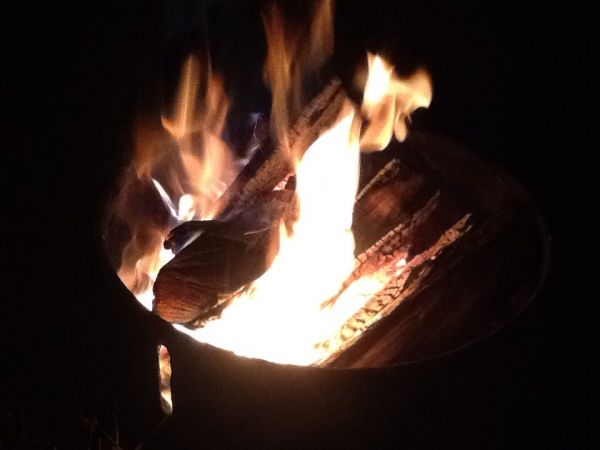 This post has already been read 2398 times!