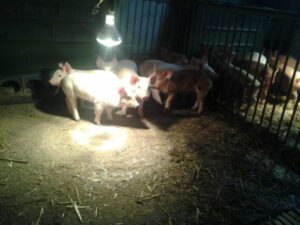 Below are some images from the hog farm where we're getting our piglets. 2 of those weaner pigs seen there are ours. They will be about 25 pounds when we receive them, one Duroc, one Landrace.
We can't visit the farm exactly due to disease restrictions (i.e. they don't let anyone on the farm, into the barn for fear of tracking in mud with disease and such) but I requested some images so I could see how they were living, what they looked like etc.
There are 40 sows from what I understand in the barn, producing piglets every 4 weeks (different sows are bred to bare periodically so that there are litters throughout the year)
[RoyalSlider Error] Incorrect RoyalSlider ID or problem with query.
This post has already been read 1785 times!