I've given the word to the hog breeder that I want two weaners for May 1st (or around then). I'm assuming (ha!) that the snow will be gone and the ground will be somewhat dried out by then. The plan as it is now is to erect the hog panels surrounding the garden for a couple weeks and the pigs and root through there a bit while they are young. The other purpose is that its relatively code to the house so i can run electricity out there for a heat lamp, just to be sure they aren't too cold at night. And I can watch a bit more easily for predators and general goings on there. Its a whole new experience so being closer will help and we want a larger garden anyways so this is a great way to prepare the ground.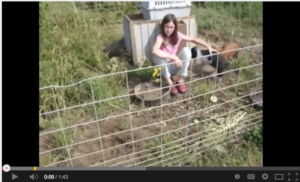 We will be starting with just two, and selling three halves (assuming there are buyers). Worst case scenario, we have lots of meat in our freezer for better than grocery store prices and the meat will be antibiotic free, free range mostly and generally better raised. i.e. we will know exactly what goes into our pigs.
In addition, Nathan our neighbour has put in the order for 120 meat birds. We upped the number from last year because we had overwhelming sales, plus I'd like to keep a lot more in our own freezer. 20 birds in there would be nice for the year. There shouldn't be any need next year to buy chicken or pork at all! Thats the ideal anyways.
Our garden then will probably triple in size anyways – will be posting a video of some of the plants we're starting in a bit. The food though not likely by any means to supply our food for the year should give us some good experience on top of last years garden in terms of learning what we should be growing, what works best for canning and preserving / freezing etc.
Looks to be a good year ahead despite the world conditions in terms of prophetic fulfillment (which will be a whole other blog for a prophecy update 😉    … )
Here is a youtube video from a guy who is doing almost exactly what I want to do. My vision came from this video really in terms of how he was doing it, number of pigs etc. Hog panels, a couple pigs, a bit of a chicken tractor like scenario where the pen moves periodically as the pigs go over the land.
[youtube LXeZ7oVhAUg]
This post has already been read 1208 times!