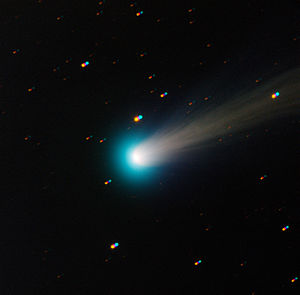 Did you know the newly branded 'Isonids' are happening all this week? Started Sunday and will run for about 7 days through Saturday.
What are they you ask?
Comet ISON was producing a large amount of dust prior to its disintegration. Some feel that despite the distance that some of this dust may still reach the Earth. Now whether it is in the form of meteors or noctilucent clouds is unknown. The individual dust particles are calculated to be only a few microns in size, too small to produce meteors bright enough to be visible to the naked eye. Yet meteor observers are encouraged to view any possible display of meteor activity despite the full moon. http://www.amsmeteors.org/2014/01/meteor-activity-from-comet-ison/
Most don't think much will come of it. We shall see whether or not we get any light show. Either way, look up. Whether you see and appreciate the planets and the stars on a dark night or we have a meteor light show, you still win!
In Wheatley River we are well away from any light pollution. On a clear night there are millions of light points in the sky, the dippers, the moon, all the constellations, the major planets. I'm no expert and I couldn't even point out any of the major planets – i can show you the big dipper though 😛 … But you don't have to know much about it to be in awe of it and therefore the one who created it all. Step outside tonight and see whats going on in the sky.
This post has already been read 2111 times!