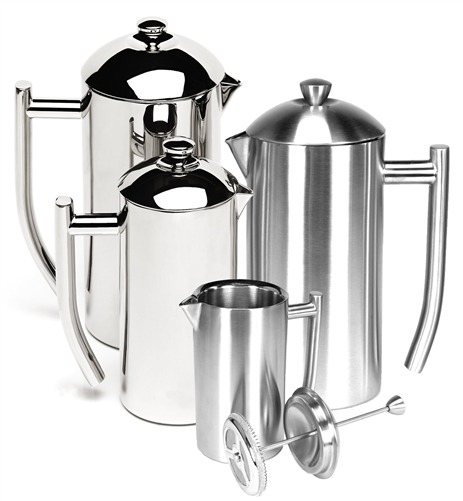 A couple weeks ago Jack broke our (second hand) Bodum french press. We were using auto drip for a while. It was OK but didn't have that nice full mouth feel of the press. So finally we got a replacement.
It was a tough choice, our friends got a Frieling (pictured). I didn't want to get the exact same as them so I was searching for  a Bodum or Paderno, or other equivalent sort of press just to be different.
First of all, Paderno was sold out of theirs… and I searched the other manufacturers and I could not find an all metal press! All bodums presses for example had plastic parts on the plunger. Why do I care? Well plastic leeches out chemicals when in hot liquids.. Thats right, carcinogens! Cancer  causing agents.
I didn't have a choice with our $5 second hand store plunger but as I was looking for a new press – and was willing to pay good money this time for a decent one – I wanted to make sure it was all metal.
Now there may be a bodum out there with an all metal plunger but I didn't see it on their site… So I went with a 5-6 cup Frieling stainless steel one, its completely metal.
The only issue with this is that you can't see the water level as you can with a glass press. I didn't think of this before buying it so that would be my only  bad thing to say about an all metal press, apart from that, I highly recommend it for a long lasting press!
This post has already been read 1940 times!