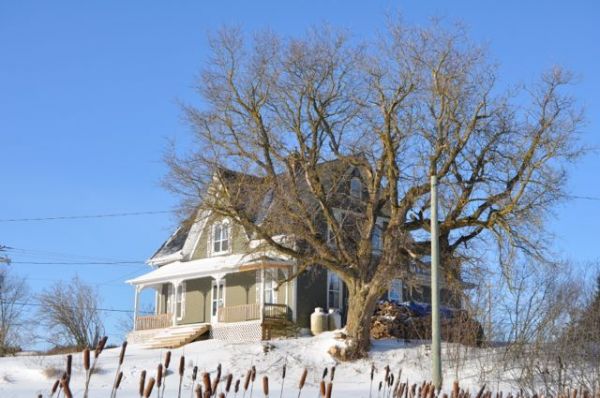 Yesterday it was 6 degrees above zero, this morning it was -12. I've got the firing roaring again  this morning as per usual. You certainly do respect heat more when you have to cut the wood, split it, and start the fire every morning. And it sure does what its supposed to  as well, it warms our house up nice.
Its by far the cheapest way to get this house up to temp. Any sort of wind of course strips the heat right out of this place with its holes and cracks and empty walls. The children now have the coldest rooms of the house but like anything else, as long as you're equipped to handle it, its not so bad. Area rugs help as the wind blows up through the cracks in the floor boards. We haven't had too much of a cold windstorm yet though, at least not while we've been in the house this winter (one occurred while we were away and did some damage though).
I haven't decided whether its worth it to insulate the walls yet. Surely it would decrease the heating bills and generally make it more comfortable to live in. But that would cost 15 to 20k. The payback on that considering how cheap wood is ends up being (even if we cut our heating in half) 20 years. If half our heating bill is $1000 (we only spend 1200 on wood actually), even a 10k renovation would take 10 years. Thats a long time :/ Whats an extra 4 or 6 cords of wood to cut and move right?!
One more thing to really crunch the numbers on this year.
This post has already been read 2064 times!