As we head up north (NWT) for a couple weeks over Christmas one funny thing is the luggage we're carrying. We'll be taking a couple large / expandable suitcases. Lindseys will have clothes for herself and 2 kids. Mine,… it will have my work laptop and accessories, our macbook and its accessories, our WiiU and its accessories which include the game pad, 4 Wiimotes, AA charger, assorted cables, and games. So it will be stuff with all things plastic and metal. Including all its rare earth metals. Oh, and Sorel boots, maybe a couple coats.
Anybody else travel with so much electronics?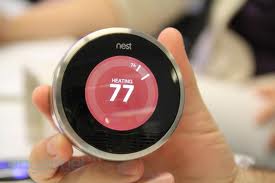 Speaking of which, I was thinking of some cool remote monitoring equipment for the house, you know… something that came along with an iPad app or something? There are lots of cool thermostats with WIFI capability (such as Nest). Home depot also has a wifi capable one for about $170 with an App as well. The NEST though super cool looking is $250 which for us is super expensive. I would plan to have it on our oil furnace which is our backup furnace and its hardly used so to have a super fancy thermostat that never turns itself on for 11.5 months of the year would be a waste for sure. Granted, any Wifi thermostat purchased only for 2.5 or 3 weeks is probably a waste of money. Its not even like we're out of the house at work during the day… i"m home all day so I can easily walk by the thermostat to see the 'stat' of things throughout the day. Though wouldn't an app be extra cool with little temperature alerts and to be able to turn the heat up or down remote up to a 50 ft radius outside the house (wifi range..) or even turn it up or down while we're in town from my iPad? 😀 Nest is neat to be sure, sadly, one of those things I can't even make a convincing case for myself with.
I'm actually using 2 digital thermostats right now, one digital for our wood furnace which they say you don't need, since wood is very much a 'ballpark' heating system. My problem with the analog unit was that it was so hard to really see the temperature and the setting on it was so inaccurate. True, you don't need accuracy but when you move it around, sometimes you want to bump the heat up a couple degrees, and then reset it to your regular temp but with analog, you are never really in the same position. With digital you can pick your 20 degrees or whatever and know thats what you've selected. Hey no one says you shouldn't have precision just cause you're burning wood!
I've considered lots of other household electronics like electronic door locks requiring only  a key FOB for entry (great for guests or hands free door unlocking when a kid or two are in tow) and a surveillance system, but again, I'm physically in the house 50 weeks of the year, not even travelling out during the day for work so… its something I really wouldn't get much use out of. Sometimes I wish I had a good excuse for this stuff 😛
This post has already been read 1325 times!