Its saturday as I write this. The snow is falling steadily and thickly. The roads are now covered and the grass is mostly covered in a few centimetres of snow. I've been trying to get my snowblower going, I've resorted to looking into the cost of a new gear box because by the time I get this one apart, its going to be mangled… plus.. hey, new gears and bearings is always a good thing!
The bolens is such a fun tractor to have. All the parts are basic, gears, chains, belts, bolts, mechanical everything. And metal everything. No plastic to crack – though lots of metal to rust. Its truly a big boy toy! I'm having fun fixing it up, maintaining it, and looking for more attachments. Today (yesterday) I put my agricultural tires up for sale.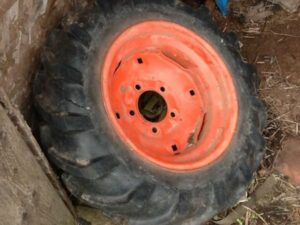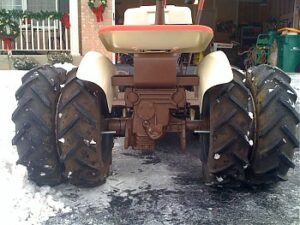 These days these tires are more of a collectors thing. They are useful indeed but I really don't run the tractor THAT hard… good for use with a tiller and I want to eventually get a tiller but chains on my turf tires would do a similar job for the very few times I would need these tires on. With these I can do the dually setup (4 tires on the back axle) but the bolts I have aren't long enough since I have the extra wide turf tires and these tires are taller than my turf tires actually… All that being said, there isn't too much use for duallies. Good for flotation, not ideal for traction generally and traction is usually what I want. So chains in this case definitely do what I need and prevent the need for me to be swapping tires all the time. Which is just generally easier.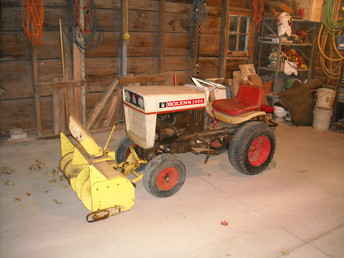 All this being said, I'm looking forward to blowing the snow with my 'new to me' 'sno caster'. Left is basically exactly what mine will look like. I'll probably get a fresh coat of yellow on it as well.
Something about attaching the various 'attachments' and getting work done. Its really like a big lego set, you get to mix and match the pieces depending on how you want to play (or by what work you want to do). Tons of fun and lots of expandability. I know, broken record, I've blogged on it before.
Having good fun so far with this tractor!
And don't worry, I'm sure I'll have videos of the sno-casting in future blogs.
This post has already been read 1479 times!