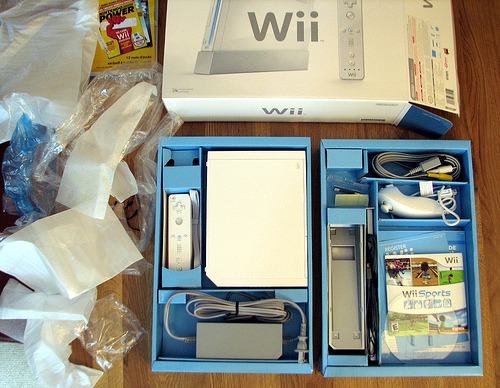 The anticipation of the WiiU is like Christmas. Even though Christmas is very much a fabricated holiday (ie, not something we're required to do religiously or something like the jewish holidays for example) it feels like Christmas was something that was meant to be. Maybe because its been happening for my whole life and hundreds of years before that.
I always enjoy the happy anticipatory occasions and the launch of a new console (which comes once every 4 years or so – though MS and Sony tried to extend that with the suggested life of their consoles). Its the waiting and waiting until one morning when its HERE and I get to unwrap a box and have tons of fun opening and pulling apart all its components. I get to take the electronics out of their little bags, untwist the ties from the cords, remove the styrofoam packing corners, cut the tape thats holding it altogether. Oh, and glance at the manual just to pretend that I'm reading it – don't want to miss anything even though I know the manual will be pretty boring and useless..
Now, Christmas isn't just about unwrapping presents obviously, so its probably not so good to relate it in that way, although here it is; Christmas is about the little bundle of joy called Jesus who was unwrapped that first Christmas morning to save the world. The WiiU won't save the world, though Nintendo hopes it will keep them afloat for another generation of consoles.   There isn't anything wrong with enjoying some of these things while on this earth though.
I totally love the unboxing part, and then the fun plugging it in for the first time… and THEN turning the devices on and seeing the start up screen and hearing whatever startup sound and seeing the boot animations. I enjoy the whole experience really. Honestly, its almost more fun to unwrap new stuff then it is to actually USE the new stuff going forward.
So I'm waiting for Nov 18th, and probably another week after that for delivery of the unit – as it was preordered and it will only start shipping on that date.  Can't hardly wait! Sure its not super meaningful in the grand scheme of things and in life but its one of those little fun moments that come along every once and a while.
This post has already been read 1268 times!