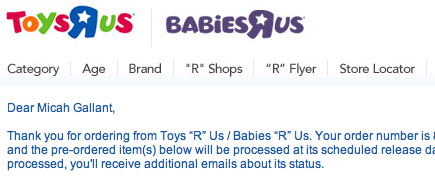 Happy news today (for all the gamers in the house), I was able to catch a deluxe preorder before it was sold out. ToysRUs.ca JUST started taking preorders yesterday and thanks to gonintendo.com I was alerted to that fact.
I was able to get online and punch in my credit card as soon as I saw it. See all pre-orders (for the Deluxe version anyways) were sold out (futureshop, bestbuy, ebgames, gamestop, walmart). I had decided then that I was going to stand outside futureshop overnight on launch day to get the WiiU. And that would have been tons of fun for sure but I already did that (23 hours sleeping outside of a Zellers in Ontario for the Wii. Nov 18th, 2006). So this time it was fun and different to preorder it.  I've never preordered before at all for a console.
The only drawback of pre-ordering is that I need to wait up to a week of business days for the unit to get shipped to me. So I don't get the fun of getting it on launch day but hey, its a hard life (..not..).
I haven't yet paid for the unit, they take payment when the unit is shipped. Now I've read some comments about ToysRUs that they don't run their pre-order program properly, by that I mean they keep taking orders regardless of the number of initial units they actually have for pre-order. Instead if they run out they say "we're sorry, we don't have any more units left, we will ship one out as soon as the next shipment of them comes in". Well thats not what I want :/ I want the first shipment. The difference is you'd need to wait maybe another 3 weeks before the next shipment arrives and you wouldn't have the fun of saying you got the unit at launch because really, you might as well have waited 3 weeks after launch and walked into the store and just grabbed one off the shelf..
Regardless, this should be totally fun. I did get the black deluxe version with Nintendo Land.
If you'd like to donate, I still haven't reached my goal! See my widget on the top right.  🙂 Even 50cents is appreciated 😀
(crowd funded WiiU?!)
Do note that Lindsey TOO is excited about this. This will kinda be our family Christmas present.
This post has already been read 1820 times!