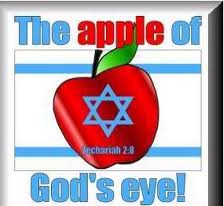 Here is a bit of a prophetic entry as it relates to how countries at least are fairing in general today. I was listening to Hal Lindsey (http://www.hallindsey.com) , one of his recent podcasts (September 21st I think) suggested that Canada was seemingly well sheltered from the economic state of the world. Most countries, including the US are mired in debt, pulled down by the debt crisis in Europe and feeling the heat of all that. Canada meanwhile, who should be heavily swayed by the US economy, seems to be doing OK, no major unemployment etc. Me as a Canadian of course, gas prices are higher but all said and done, I don't think we are experiencing the effects as greatly as other countries.
Hal Lindsey suggests that Canada, who is currently one of the loudest supporters of Israel (Netanyahu praises harper: http://news.nationalpost.com/2012/09/28/canadas-act-to-sever-diplomatic-ties-with-iran-act-of-moral-clarity-netanyahu-says-in-meeting-with-harper/) is seemingly doing so well because of Gods promise to bless those who bless Israel.
NEW YORK — Prime Minister Harper is drawing praise from his Israeli counterpart for the Canadian government's decision to sever ties with Iran.

Benjamin Netanyahu says the move was "not only an act of statesmanship but of moral clarity," and sets a great example for other countries.

Canada recently closed its embassy in Tehran and ordered Iranian diplomats out of the country.

Genesis 12:3
3 oI will bless those who bless you, and him who dishonors you I will curse, and pin you all the families of the earth shall be blessed."3
Now the above is about Abraham and there are other like verses. To me it makes sense that God blesses those who bless His chosen people in Israel. There are tons who would argue, and say since Jesus we are ALL His people etc etc. I'm not going to attempt to prove that point.  Sufficed to say it makes sense to me from what I've seen, heard, read, that its true and it seems to play out in the world too.
For a long time the US was blessed, as they started out as a mostly Christian country (so did Canada generally). There is lots of sin in the US for SURE. Canada has tons of sin too, over all though I believe that God still plays a huge part in how battles go, how individuals are blessed or not blessed (and most Christians agree God blesses individuals) etc. So corporately, for the big decisions we make, I think God does bless us as a country and I think that is maybe why we're not feeling the full heat of the crisis.
Regardless of your view, its certainly an interesting thing to ponder.
Do you believe God blesses those who bless the nation of Israel?
This post has already been read 1544 times!