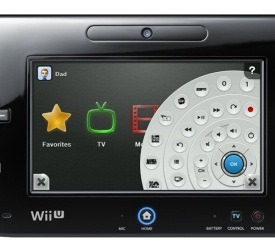 I did a post a couple days ago about the killer feature. I wrote it before they did their big reveal on it. And it turned out to be more than even I figured it would be – well done Nintendo! I think it had to be no less than they did do from what I see.
The other post was here:
So here is what it can do very basically…
– Control your TV with IR (ipad can't do this. Sure apple TV can but Apple TV won't plan full out console games either. Well maybe it could but thats not its sole purpose)
– play netflix and the like
– stream media
– control your DVR
-Provide a social angle to watching TV real time
– Allow favourite channels to be set and selected.
– Provide interactive TV such as play sheets along side a football game or realtime commentary text or scores for other games.
This doesn't really explain it well, watch the videos. Sufficed to say, from the looks of it, Nintendo really DOES have a killer feature if it turns out as good as it looks. Noone else has a device that will stay in the living room, is accessible an friendly to all who are going to be watching TV and as flexible with apps, infrared transmitter etc.
Can't wait to get my hands on it and really see if it will replace all our remotes (we have have about 5 or 6 remotes now. TV, DVD, HD converter, motorized Antenna and a couple extra ones hanging around…)
I'm excited, this along with the games at launch make me think that Nintendo bet large and got it right AGAIN and not only that, they are winning back the hardcore crowd!
Here is the TVii trailer from Nintendo:
[youtube 08O0G9CjcI8]
This post has already been read 1201 times!