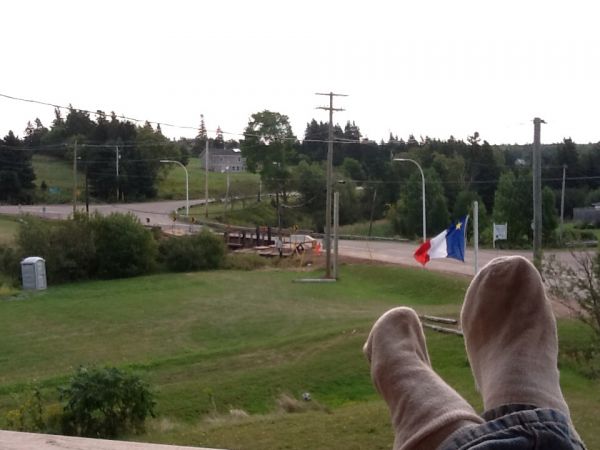 I should have a regular feature, the porch blog where I post an image of my feet and the current state of downtown Wheatley river.
It's overcast this morning but a warm wind is blowing, though briskly. The bridge workers are off today. The story is that they are not replacing it but repairing it. They have basically torn it right down and are rebuilding it attempting to use as many of the original timbers as possible though a few are rotten. The beams consist of creosote soaked hardwood, large timbers at that! Really large and I would assume they came from island trees, I think the bridge is that old but I could be wrong. I'm sure it's been repaired many times over the years.
A ports potty sits on our lawn from the construction. The river is high right now, tide is in. We still haven't gotten around to paddling up the river but we atleast have the inflatable boat now.
In other news I just received shipment of Ethiopian yirgacheffe beans, 20 pounds worth. It's actually a much more mild bean than the Limu ( same origin country). So I sipped on that this morning. Now to sign off and actually enjoy the breeze.
This post has already been read 1674 times!