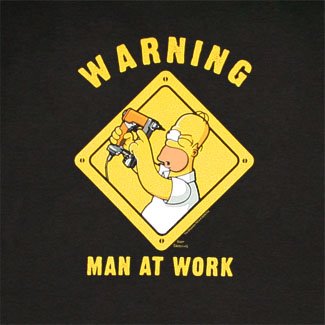 Today I got to work. But not my 9 to 5 day job, no,… I got the day off. In lieu of Canada Day monday. I was able to get a few projects done – well, started anyways until I ran out of supplies. I love days when I have the will power and energy to start work early and get stuff done. Its not often but I have spurts where that happens.
Started off with some errands and purchasing some supplies. First I picked up my lawnboy lawnmower (completely unrelated to projects). Then I got my new Stihl chain. My existing one is of course from last season and has teeth broken off :/  Once a year at least I go and get a new chain. Its only  $23 or so since after a while of sharpening it myself, the teeth do get wonky.  (project for another day is to cut up the remaining 8 foot lengths from last year, about 3 cords or so, before my regular 8 cords come.)
Then I went to Canadian Tire – you can't go into town and not go there! Then to Home Depot to get some drywall and lumber.
So today I got a bunch more of our front steps completed – not finished, are my projects ever 100% complete? Then I put up two full sheets of drywall in our (currently) spare room closet which had lots of crumbling plaster. Its a tiny closet, I figured 1 sheet would do it, max 1.5 sheets. Nope, used the full 2 sheets and need a third :S. And then after supper we all went to the beach for a walk. It is crazy hot / humid out!
Oh, and for supper my wifey made some blog worthy curry! (eating my second plate as I type this). I love the 'get things done' days and days off work are the best for that. Since on saturdays for example usually there is something else going on. Week days off work usually means no one can come out and play and stores are a lot less full which equals getting lots of work done.
This post has already been read 1658 times!