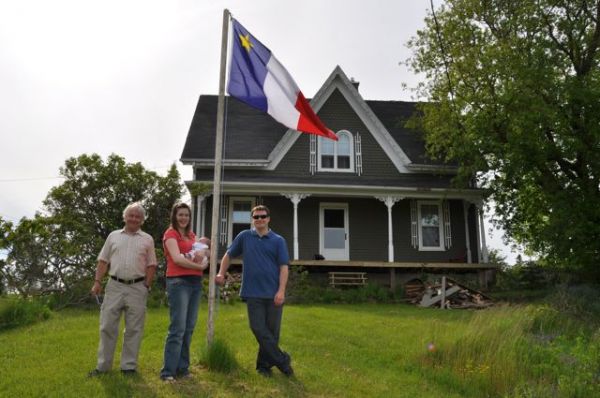 I have a lawn that almost never ends. As soon as I'm finishing up one side, the other side has grown back and its ready to cut again 😛 TBH, its not that bad but we have got a lot of grass now to cut. I got a bit of that done on the weekend.
Most notably over the weekend I, with the help of some friends, scavenged what we could from the old house and got rid of a bunch of appliance.
As we were stacking appliances in our driveway to get ready to post on usedpei.com or take to the dump (one or the other), a random local drove in with a pickup asking what we were doing with them. He wanted them for scrap. They weren't sitting out there 30 minutes before being spotted by a local bulk metal collector. We promptly loaded up his pickup with 5 appliances (2 stoves, washer, dryer, and a microwave) and he carted them off. That was amazing timing there, sure I don't get a few bucks from the units but hey, certainly cleaned them out real quick!
In the doing of all that, I cut down some bushes as well so I have a pile of bushes sitting there I need to clear so I can cut even MORE grass 😉
Later on that day, 3 cars drove in, right up to the end of our property. I thought maybe it as the neighbours scoping out the property for a wedding that is happening this summer or something. I went out there to check like any good landowner, turns out it was a bunch of fishermen looking for a spot along the river.  Not sure what the word is, gall? To drive up someones lane, sure it looks a bit abandoned but there are branches cut down and stuff going on, why would you just drive up a lane and start poking around? Doesn't seem like a lot of respect to me :/ And I'm sure that won't be the last. Should i put a 'private' sign up at the end of the lane? I don't like when people drive their cars right to the back of the property, thats brazen.
First of many situations I'll have to deal with being a landowner now… I have no lack of projects, well,.. with one piece of property and one house I didn't have any lack, now I have a total of 3 properties, 2 houses + various outbuildings that are all in states of disrepair. All is good though, its satisfying / fulfilling to make progress on all these projects and get things tweaked to where i want. Should be a good hardworking summer for me!
The hope as well is that with my own blood sweat and tears I'll increase the value of the property (through beautification) and thereby have a good retirement investment or inheritance for the kids, either one is good.
This post has already been read 1185 times!