As we were getting to know our neighbours in their very nice huge yellow house, they showed us the path the neighbours on the other side  made along the original old road. It creates a beautiful hidden oasis of sorts, one that not even the old timers know about since it was recently created by some of the newer additions to Wheatley River.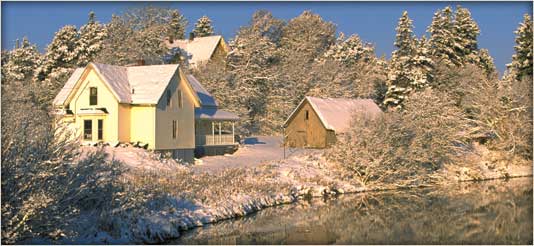 I thought to myself, this is pretty incredible, its not heaven but boy, there isn't anything more I could want on this earth.
It then made me think of being focuses in this world. To not get so blinded by the things of this world (another friend mentioned it to me as well, i.e. not being so taken up with the things of this world that you miss God and discount heaven in a way). We shouldn't get so wrapped up in the things of life, or the places, or the possessions that we forget who created it all, where it all came from and how quickly it could all go away in this world.  We are blessed to live in a great little community and have some great friendly neighbours that let us stroll on their property and we hope to reciprocate that.
All said though, the first thing to remember always is God in all of it, the creator, sustainer, giver of breath and life and blessings.
Sometimes I think when God recreates the world (which the bible says He will do as the permanent paradise), that  I would like to return to PEI and our little Wheatley River if it still exists since its one place that has a lot of beauty. Who knows what it will be like after He fixes it up but those are my thoughts often and I don't think thats a bad thing, i.e. to enjoy His creation. In fact better to enjoy His creation and have fun in it than to simply focus on the investment of it all, or the expence of it or the work it will take to get it back into shape.
So focusing on the right thing is key. God isn't a party popper or  a wet blanket, He likes it when we are happy, healthy and enjoying His creation and His blessings for us.
This post has already been read 1170 times!