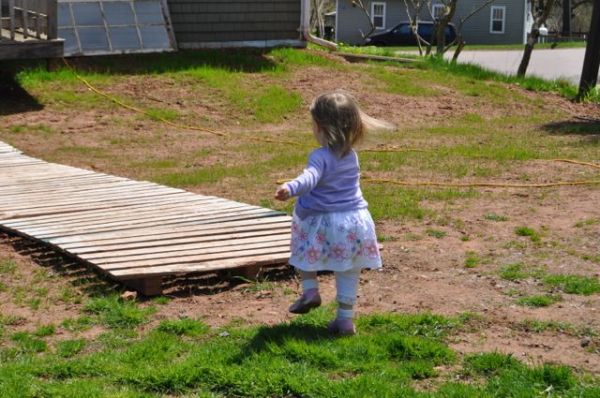 I have a pretty amazing life. I have so much fun with my family, with our house and all the fun things we get to do and experience. I love living in PEI, I love the sunny weather and the birds and the trees and the river.
We have great families and great friends, a great house. I couldn't ask for anything more. Seriously, I have no bucket list left, I've been blessed with all I ever wanted pretty much, incredible! To be able to say that is really cool.
One thing I love is to get outside when its warm and sit on the porch or wander back to the apple tree and just look at things. Lots of undiscovered things around here too, old bottles, metal from old horse drawn wagon wheels, shattered pottery from who knows when. Every walk yields a new discovery (and usually another task on the task list to clean up for example or to maintain in some fashion).
Today I got a bit more landscaping done around my shed. I finally have the Bolens tucked into the shed out of the direct weather! So happy about that. I had to do some arranging to fit it in there but I think it works. I really enjoy the fact that since we own the land, I can maintain it or not at whatever pace I like. And I can choose what kinda landscaping to do, and
where, its totally up to me and my imagination! One thing I enjoy is tweaking things I get. Getting them all cleaned up, ordered and arranged just the way I want them and such. Like the tractor, its all greased up, fluids changed, things are just the way I want. So too is the house, the rooms are fixed in the order we want them fixed and at our own pace, we get to adjust the things we want to. Lots left to do but we plug away at them as we have time and money and that is totally satisfying. We're building a house and hopefully wealth at the same time if we do it well.
On top of these things, we now have 2 kids to share the house with and fill it up, and the house is so large that we still have lots of room to expand into as well, i.e. the basement which right now is just storage. We hope to make it into much more, a REC room of sorts, with a pull out couch and maybe a TV for those hot summer days / nights when you want to be in the cool. Its so exciting to do the projects we enjoy doing. It almost takes all the fun out of it to have someone come in and 'just get it done'. No satisfaction in that, or ownership really, and often when its done that way, there is also less character.
Is our house all shiny and put together? Nope and I wouldn't want it that way, life is so much more fun when you have things to do! A wonderful life isn't having everything finished or perfect. Its getting enjoyment out of what you have and appreciating the blessings you already have abundantly!
This post has already been read 1166 times!