This week I've needed to cut the lawn but the Bolens I had was burning belts. I did just order some from the US but my tractors engine is misaligned, not being the original engine in the unit which means the belts wear prematurely. Luckily though, I found what appears to be a mint 1970 Bolens 1050 in Saint John, New Brunswick. (As close to mint as you can get anyways). It has a story as well!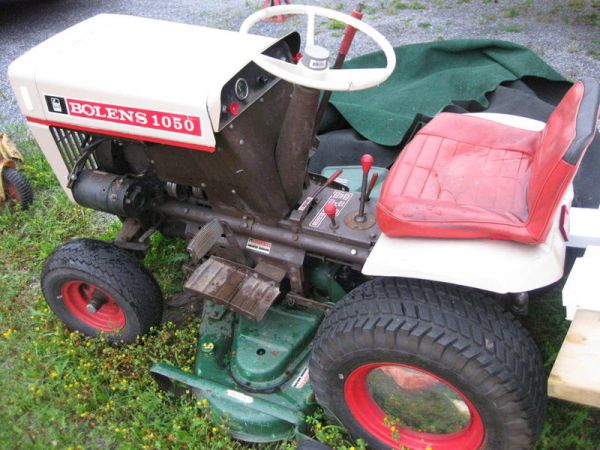 The story is that its owner (who has since passed – 2 years ago) owned a Bolens dealership which of course went out of business. The tractor was from his business that he kept when it went out of business as a bit of a souvenir so it hasn't been used hard at all. Really it was a keepsake that sat in a garage. Its super clean, pretty much 100% original in parts, even the seat looks to be original.  Its hard to find a tractor in that good condition.
The current owner I suppose figures its a bit to heavy duty for regular mowing or maybe doesn't have a large enough lawn to make it useful. The picture is of the actual tractor on kijiji. The images make it look in amazing shape. I have to drive to Saint John to pick it up though, thats 300kms away. So I'm hoping to make the trip on saturday. It'll be a long day, especially having JUST replaced the wheel bearings on my trailer – hoping they hold together. I'm sure I'll make some blogs should this turn out to be as good a purchase as it looks. Later on I'll be demonstrating a snow blower attachment that my dad picked up for me in Ontario, that will be SO fun to try out this winter.
Next on the list, and maybe for next year is to look into collecting the other attachments for it. Such as a tiller, gravel blade etc. This is truly a hobby but I do make stuff work so it won't be an easy life for the tractor and attachments. Hopefully if I maintain it though, it will be something that will be even more valuable when I decide to upgrade!
This post has already been read 4755 times!