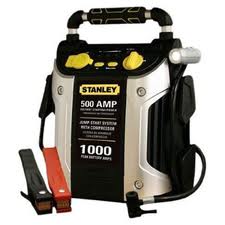 One of the more handy things to have around the shop is this thing, a mobile battery pack. Something with a handle that you can take over to the car or the lawn tractor or whatever to provide power, light, etc. I love it, so versatile.
And this particular model is even more handy than some of the other ones you can buy, this one has a light, a 12volt plug, usb charger, AND air compressor on the backside. An all around workhorse for all the powered help you may need around the shop.  I've used the compressor a number of times now for bike tires, car tire top ups, really saves firing up the BIG compressor and saves going to a gas station. I like it cause  you just pick up this little unit and go, no plugging it in or whatever like a real compressor. I have a household type power pack but it doesn't even run the vacuum cleaner 🙁 I wanted to vacuum out the car and i don't use it much, so I took it out so I wouldn't need to run the power cord,… not powerful enough.. .Anyways, not sure this stanley is anyways but just saying, for mobile power, I tend to make use of it outside for outside things more then stuff in the house. Granted when the power goes out, my other power pack is the first thing I go to cause it has nice big LED lighting on it. The household unit I have has a 5 watt solar panel on it too so I don't have to keep it charged. This stanley unit doesn't but I could probably rig something with all my solar panels. All it takes though is a night in the house plugged in and it will last for months of use.
Love this portable stuff (and that includes my portable power tools). When a jobs time is cut in half cause you don't need to find a power outlet or run an extension cord, I'm WAY more up for the work. I like to think of something and just start doing it. I"m impatient, I hate the setup / prep time to get tools in place, cords run etc so anything cordless is awesome. I take my bag of tools to the site and get at it, and clean up is just as easy, toss my tools in the bag, no rolling up of extension cords or whatever.
if you don't have one, and you work outside on engines, or bikes, or whatever, its SUPER handy! I'd buy one again in a second.
This post has already been read 1089 times!