Its spring time and the sap finally started flowing… monday I think it was. Its snowing and below zero again today so I've not got anything else from the tree… The 'regular' season though is mid march to mid april so really, I'm still early. I tapped the trees probably 2 weeks early. We were getting some very mild days, well above zero almost throughout winter but somehow the tree knew it wasn't time yet.
Below is a pic of the next two days.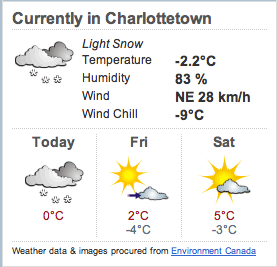 These below zero nights and above zero days are exactly what the tree is waiting for, plus sunshine, to get it pumping sap. Somehow today we're getting a snowy blizzard :/  Can't wait for it to REALLY start flowing! I actually boiled down our very first 2 or 3 litres or so, although I forgot about it and TOTALLY burned it all in the bottom of the pot. Very disappointing that was!
TIP: To dissolve burned maple syrup or sugar, pour in a bunch of bleach, and let it sit there, and scrub it for a few seconds every 20 minutes. Works really well. I got that from having to clean out my coffee pot, got it from google. I tried vinegar and soap etc, but bleach REALLY works, dissolves it really quickly.
My hope is to (somehow) save enough for our own family for the year. We gave away a pile of it last year and otherwise guzzled it. Our tree provides 4 or 5 litres of finished product… I need to count better this year, but of course we go through that much likely in a year ourselves. I do enjoy giving it away.  Sometimes I wonder if people REALLY appreciate it for what it is, similar to fresh roasted coffee, do people really understand / experience the difference and appreciate it? Maybe I'm turning into a coffee and maple syrup snob… Maybe its that you care less about something when you're not making it yourself.
To taste the nuances in the flavour, to know where it comes from and to be able to tell it apart from store bought stuff is all what i consider the minimum in appreciating something like this.
Having said all that, I can't wait for my first taste of maple syrup. If I hadn't burned the first batch I would have enjoyed that already 🙁 Oh so sad, and now I have to wait for another warm day cause it only ran that one day! I'm so impatient.
I wonder if there are things that other people give to me or do for me that I don't appreciate, I suppose thats a given so thats a lesson for me right!
This post has already been read 1619 times!