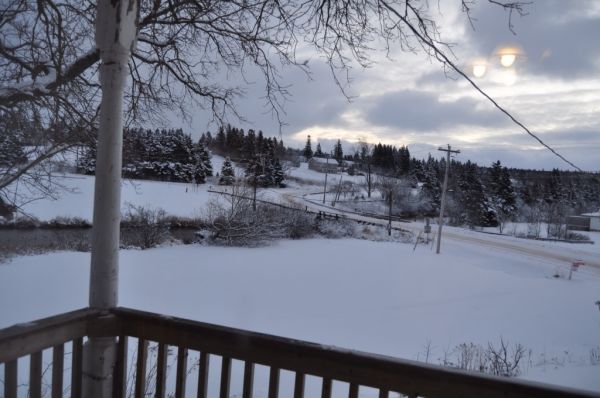 This year we had a white Christmas which was excellent (see pic). We got it a few days before Christmas. I've had lots of opportunity to get out on my lawn tractor and push snow around. I love using my gas powered tools! I always enjoyed shoveling snow. Its a fresh experience every time, fresh cold air, different snow to move, different obstacles to get around, different types of snow, different times of day. Even better if its snowing out WHILE pushing the snow around. Its just a relaxing sort of thing yet it burns a few calories too. I've eaten SO much already, mostly sugar :/ Too much.

Today, Boxing day as I write this, is going to be a lazy day where I just stoke the fire – though I should do a load of firewood. Mostly for my own exercise… My last blog was on the return of the Lord. Right now I really enjoy being in this world but we aren't as Christians supposed to get attached to it:

(NKJV) 1 Corinthians 7:29 But this I say, brethren, the time is short, so that from now on even those who have wives should be as though they had none,
(NKJV) 1 Corinthians 7:30 those who weep as though they did not weep, those who rejoice as though they did not rejoice, those who buy as though they did not possess,
(NKJV) 1 Corinthians 7:31 and those who use this world as not misusing it. For the form of this world is passing away.

There are many other passages, sufficed to say we can and should enjoy the bounty that God has blessed us with in this world, but we should never cease looking forward to and waiting for Jesus as that is the ultimate goal. This world gives us all a choice, for God or against, 65 years or so to make that decision, then the Lord will return once man has made his freewill choice and those that chose Him will live with Him forever WITH Him in Glory / Heaven. Those that did not choose Christ and Him crucified as the free gift of salvation will enter into judgement. Hey, its not me saying this, this is the bible straight up. No sugar coating here folks, You need to know where you stand and why you stand there…

Romans 6:23

For the wages of sin is death, but the gift of God is eternal life in Christ Jesus our Lord.


So as I enjoy this Christmas season, with our new small family in our toasty home in Wheatley River as the snow flakes fall, my mind always wanders to where we will be when He returns. I think this is great now, loving life, loving my family and enjoying all the things God has allowed us to have, but what He has in store for us is SO much more!

(NKJV) 1 Corinthians 2:9 But as it is written: "Eye has not seen, nor ear heard, Nor have entered into the heart of man The things which God has prepared for those who love Him."
This post has already been read 1283 times!