We bought our horizontal breadmaker at the end of June this year. I figure a little less then a loaf a day. We've made likely somewhere between 80 and 100 loafs of bread with the maker. So far so good. In terms of baking fresh bread, its kinda in our daily routine now, mine anyways to make it… The maker itself is basically as good as it ever was, the pan though is showing signs of wear.
The non stick coating seems to be wearing off, and circles show in the bottom where the paddles spin around under load. Also, one of the paddle bearings or shaft anyways is not sealed anymore. This has happened to me on previous machines. The seal leaks, then the shaft starts getting corroded and locking up so it doesn't spin anymore so I always have to check that before putting together another mix for baking. I have to put some muscle into turning it, once its broken, its good for the next run. Not sure how long before that really causes it too much friction and breaks something…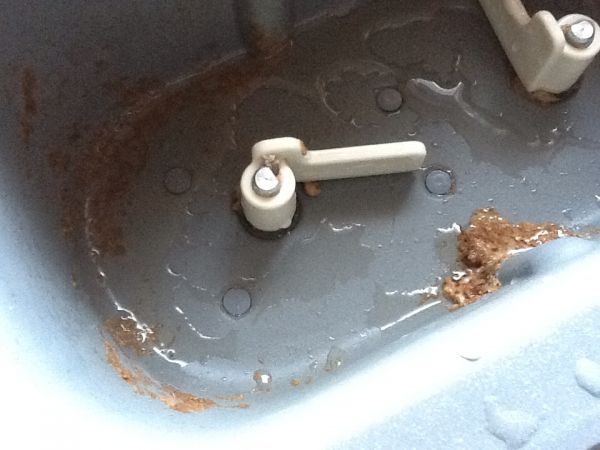 I think however that one can purchase a new bread pan and paddles though which is great. You'd probably have to do that annually anyways, these units aren't really meant for daily use like I'm using it probably, not the pans anyways, they aren't industrial strength or anything. The machine itself seems to stand up well though, no issues.
In the image, you can see the scratch arc where the paddle turns, and the stuck on remnants of the bread where its not as non stick as it used to be. Working great though!
We mix it up with plain white bread, 50/50 white / whole wheat, 100% whole wheat (which is not our favourite), and multigrain (which is really tastey. Love the grain bits in it!)
Now, just need to wait for Arden to get a bit older and give that to her as 'her' daily chore, something she can own and offload myself 🙂
This post has already been read 1808 times!