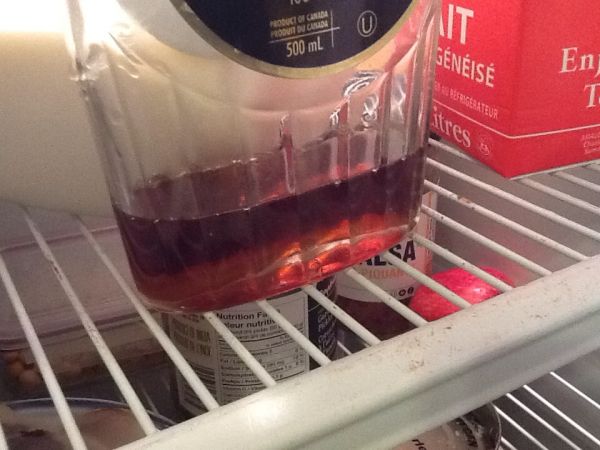 We're down to our last few splashes of syrup from the spring. We gave away 4 or 5 litres, and we ate up a few litres ourselves with all our visitors and pancake breakfasts, bruches, lunches and dinners. We also made use of it in recipes too.
I have big plans for our Manitoba Maple tree!
The provinces of Ontario, Nova Scotia, New Brunswick, and Prince Edward Island produce smaller amounts of syrup.[32] The provinces of Manitoba and Saskatchewan produce maple syrup using the sap of the Manitoba maple tree (acer negundo or "box-elder").[36] Manitoba maple syrup has a slightly different flavour than sugar-maple syrup, because it contains less sugar and the sap flows more slowly. The Manitoba maple tree's yield is usually less than half that of a similar sugar maple tree.[37] http://en.wikipedia.org/wiki/Maple_syrup
Earlier in the spring we had taps and 4 litre milk jugs (and one official container) for collecting sap. What this meant was frequent trips out to collect the sap so it wouldn't overflow, and loss of precious sap when we didn't get out in time – like early morning, and then when the wind whipped up, sometimes the containers would blow off. (here is a video of our process in a previous blog: How we make our famous maple syrup.
This year I'd like to do the setup with rubber hoses (suitable for food). This is how they do it in 'big' operations, they actually setup a bit of a suction with hoses on all the trees and they 'drain' into a central container. This may overall be cleaner, less time consuming, and less wasteful. Stay tuned for that video! I expect we'll get another large amount of processed maple syrup again – its a big tree! I had 3 taps on the tree last time, I'm pondering putting 4 on it. Trees of atleast 2 feet in diameter can support 3 taps. Ours is closer to 3 feet in diameter I think so I'm thinking I can get away with 4 – and it needs to be stunted anyways!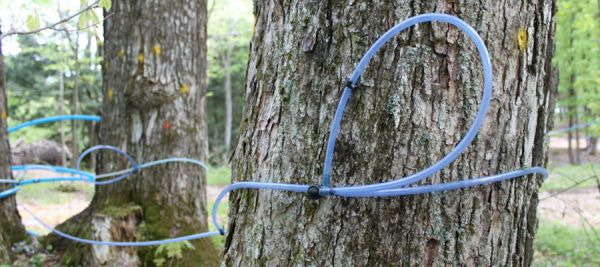 Stay tuned to see how that goes! I also plan to boil the sap outside. I boiled what was likely over 200 litres of sap in our kitchen :S Thats only going to mess up our ceilings and its not even that efficient for boiling as the air inside gets super humid and saturated. The cool outdoors is ideal, I just need a cast iron wood stove out there on which to boil it. Using wood is definitely the recommended way too for cheap boiling.
This post has already been read 2446 times!